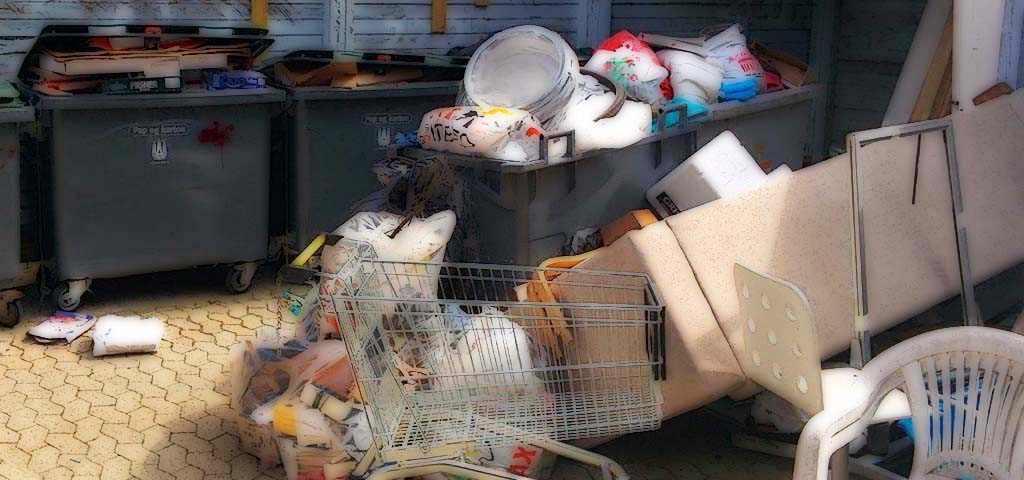 Waste service status.
Household waste should be disposed of in the rubbish chutes. Follow these guidelines:
use thick garbage bags
tie up the bags properly
do not push the bags in too hard
pack in smelly garbage (e.g. old food or diapers) even better
Liquids, newspapers, advertisements, phone books, cardboard boxes, pizza boxes, crockery, jars, bottles, etc. should not be disposed in the chute.
If the above guidelines are not followed, the rubbish chute will be closed.
If you are an owner and did not get a key when moving in or should you have lost your key a new one can be purchased online: https://www.carl-ras.dk/skaktnoegle/
The board ensures that the rubbish chutes are cleaned regularly.
All biodegradable waste must be disposed of in the container for biodegradable waste which can be found together with the other containers located at no.36.
According to the Copenhagen Muncipality's webpage, this is how to handle biodegradable waste.
Extra bio-bags can be ordered online: https://www.kk.dk/bioposer, or be picked up at the local recycling-station.
What must be included in the container for biodegradable waste
Examples of biodegradable waste, which should be in closed biodegradable bags, and must be placed in the bio container:
Food waste, raw and cooked

Rice, pasta and breakfast products

Meat, fish, bones and bones

Bread and cakes

Fruit and vegetables

Sauce

and fat

s

Spreads

Eggs and eggshells

Nuts and nutshells

Coffee grounds and coffee filters

Tea leaves and tea filters

Used kitchen roll

Cut flowers
Note: Food waste must always be disposed of in biodegradable bags and knotted to minimize odors. As a rule, no "loose waste" should be disposed of in the container except, for example, cut flowers, corn and rhubarb leaves that are not sticky/mushy.
It is not allowed to dispose these items in the container for biodegradable waste
Soil
Animal bedding (e.g. cat litter og straw for rabbits)
Food waste in packaging
Potted plants
Regular plastic bags should not be used for biodegradable waste. Instead, use the provided bags that are made of corn starch and can be broken down.
What happens to biodegradable waste
When your biodegradable waste is off loaded at the receiving facility, it will be pelted together to wring out the bags of waste. It is then mixed with wood chips and becomes bio-gassed. When no more biogas can be extracted, composting starts. The compost is taken to the fields, thus contributing to, among other things, the agricultural sector to use as fertilisers.
You can find our big garbage room next to block 36. Use your main entrance key to get in, and don't forget to lock the door again when you leave.
Please throw your trash in the proper containers and keep the area tidy.
If there is no space left in the containers, you must either bring back your garbage or instead make use of the local recycling station.
Paper
Newspapers, magazines, advertisements, envelopes, phone books, paper, wrapping paper, books and printed matter should be disposed of in the paper containers located in the garbage room.
Batteries
All kinds of batteries are to be placed in the battery container that is located in the garbage room.
Electronics

Electronic waste such as mobile phones and battery operated toys.
Plastic (hard / soft)
Such as containers from detergents, empty CD boxes, plastic container for food storage and toys.
Metal
Such as pots, nails, screws and aluminum cans, etc.
Other waste

Bulky electronics and white goods: Electronics and white goods must be disposed of at one of the municipality's Recycling Stations.
Drug residues: Drug residues and mercury thermometers must be returned to the pharmacy.
Paint residues: Paint residues should be delivered to the paint dealer.
Glass
All kinds of glass items are to be disposed of into the round glass container in front of the estates parking area on Sigynsgade.
Haraldsgade nærgenbrugsstation, Vermundsgade 47A, 2100 København Ø
Opening hours: Wednesdays and Fridays 13.00 – 18.00 and Sundays kl. 10.00 – 16.00
Here you can get rid of bulky waste, glass, paper, cardboard, hazardous waste, electronics, appliances, PVC, impregnated wood, metal, batteries and hard plastic.
You can also borrow a small cart that you can use to transport bulky items, white goods, etc. with.
Borgervængets Genbrugsstation, Borgervænget 29, København Ø
Opening hours: Weekdays (Mon-Fri) 10.00 – 18.00 and Sun & public holidays 10.00 – 17.00